August 01st 2016
Women's Engineering Society: WES Young Members' Board Launched
On 23 June 2016, National Women in Engineering Day, the Women's Engineering Society (WES) announced the formation of their Young Members' Board (YMB). The WES YMB consists of twelve women under the age of 30 who are working, training or studying in an engineering field.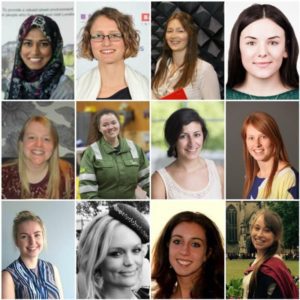 The aim of the YMB is to make WES more accessible to younger members, to reflect their concerns and priorities and provide input to the WES Council, allowing the voices of younger women engineers to be heard. The women making up the YMB will also act as role models for young women considering engineering and applied science.
The board will be supporting the "100 for 100" campaign, part of the WES Centenary activities. WES will ask one hundred companies to commit to a stretching set of actions to support diversity and inclusion in engineering during 2019, the one hundredth anniversary of WES.
To find out more visit their website.
Official Gallery: Thousands of children inspired at The Big Bang North West 2016!
Big Bang North West 2016: The Movie
The Big Bang North West 2016 Gallery: Behind the Scenes
The Big Bang North West 2016 Gallery: BBNW LIVE TWITTER 'TRENDING' NATIONALLY!
Headline Sponsors AstraZeneca 'Heat Up' The Big Bang North West
Big Bang UK Young Scientists & Engineers Competition: Winners & Awards
The Big Bang North West 2016: Booming Online!
The Big Bang North West 2016: Your Amazing Feedback!
The Big Bang North West 2016: A Teacher's View

« Back To News