August 02nd 2016
The Big Bang North West 2016: STEM-sational Sponsors 'Go for Gold!'
A HUGE thank you to our Big Bang North West 2016 Gold Sponsors, Sellafield, Unilever Ltd, Carillion and Kier and our Gold Supporter, Alstom UK. Their amazing exhibits and activities received top marks from our attendees, interactive and fun!
The Sellafield stand, presented a full range of hands-on activities to inspire young people about STEM careers and the nuclear industry. These included a timeline quiz about the history of Sellafield, a problem solving circuit board challenge, a glovebox challenge and remote controlled decommissioning activity – steady hands were needed!
Alstom were all about digital interaction! Visitors enjoyed a 3D printed model of a traction motor with supporting software, 3D printing, an interactive map of Alstom's UK capabilities and a working model of a Virgin Pendolino.
The Carillion & Kier stand had interactive videos, personal protection equipment, sample construction materials, resources and a construction simulator!
Unilever Port Sunlight showcased the science behind the everyday with exciting interactive demos from world-class research & development experts. Once inspired, our attendees visited the Unilever 'People Like Me' photo-booth to share their experiences!
Along with sponsoring & supporting The Big Bang North West, Alstom, Unilever, Carillion Kier (Joint Venture) & Sellafield generously sponsored awards for The Big Bang UK Young Scientists & Engineers Competition.
NW Young Engineer of the Year – Sponsored by Sellafield Ltd
Urmston Grammar School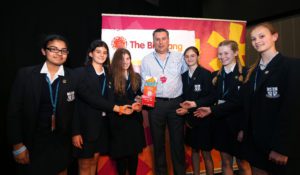 Carillion Kier Joint Venture Award for Team Work
Alderley Edge School for Girls
Alstom Award for Experimentation
The Mary Webb School & Science College
Unilever Award for Communication
Sandbach High School and Sixth Form College
The Big Bang North West 2016 was sponsored by AstraZeneca along with ScottishPower, Merseyside Network for Collaborative Outreach, Health Education England (North West), Carillion Kier (Joint Venture), Unilever, Sellafield, Alstom, GETRAG Ford & Air Products.
A huge thank you to all, what an inspirational event to be a part of!
You could be a Big Bang North West sponsor in 2017, get in touch…
Official Gallery: Thousands of children inspired at The Big Bang North West 2016!
Big Bang North West 2016: The Movie
The Big Bang North West 2016 Gallery: Behind the Scenes
The Big Bang North West 2016 Gallery: BBNW LIVE TWITTER 'TRENDING' NATIONALLY!
Headline Sponsors AstraZeneca 'Heat Up' The Big Bang North West
Big Bang UK Young Scientists & Engineers Competition: Winners & Awards
The Big Bang North West 2016: Booming Online!
The Big Bang North West 2016: Your Amazing Feedback!
The Big Bang North West 2016: A Teacher's View

« Back To News