September 25th 2016
Take the Alu D&T Challenge!
The Alu D&T Challenge is the aluminium industry's online teaching resource for 11-14 year olds. 
The free teaching materials are linked to the Design & Technology curriculum and provide teachers with lesson plans, PowerPoint presentations and videos to help bring the world of aluminium, design and engineering to life.
The challenges are a great way to get students to start thinking creatively and put their design skills to work.
A vehicle for the future – focusing on aluminium in transport
A garden building – focusing on aluminium in construction
A new packaging solution – focusing on aluminium in packaging
The challenges are flexible and easy to run. They can be delivered through lessons, or as part of an extracurricular activity such as a STEM Club.
They are available online here…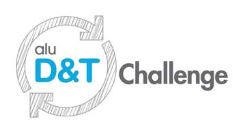 Last year over 340 teachers downloaded the resources, and over 20,000 students learned about aluminium and the contribution it can make to sustainable design as a result.
Official Gallery: Thousands of children inspired at The Big Bang North West 2016!
Big Bang North West 2016: The Movie
The Big Bang North West 2016 Gallery: BBNW LIVE TWITTER 'TRENDING' NATIONALLY!
Headline Sponsors AstraZeneca 'Heat Up' The Big Bang North West
The Big Bang North West 2016: Your Amazing Feedback!
The Big Bang North West 2016: A Teacher's View

« Back To News