October 05th 2016
Ministry of Science: Explosive show coming to Knowsley!
Ministry of Science Live is an inspirational one-of-a-kind, action-packed, interactive STEM show… and it's coming to Knowsley!
The production is not to be missed as it's loaded with amazing experiments and demonstrations. There are also explanations on how they were discovered or invented, making sure it is both informational and fun for children and adults alike.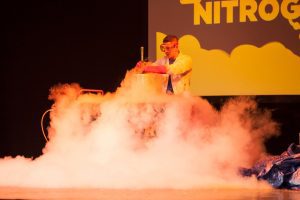 The experiments and audience participation demonstrations are high energy and even involve a hovercraft and a human cannon. What these are used for, we have no idea! Only seeing the show will tell.
The booming, well-recognisable voice of X Factor's commentator Peter Dickson will be the voiceover in the show and there will be as equally as entertaining presenters – there are no mundane science lessons from boring teachers here.
The production comes to Knowsley Leisure and Culture Park on Friday 7 October 2016 with one show at 1.30pm which is aimed at school groups and one at 6.30pm for the general public.
Tickets are £10 for adults and £8 for children/concessions.
There is also a special schools group package which is £8 with a buy 10 tickets get 1 free offer.
Visit the Ministry of Science website to find out more…
The Big Bang North West: Express your interest for our 2017 event!
Official Gallery: Thousands of children inspired at The Big Bang North West 2016!
The Big Bang North West 2016 Gallery: BBNW LIVE TWITTER 'TRENDING' NATIONALLY!
Headline Sponsors AstraZeneca 'Heat Up' The Big Bang North West
The Big Bang North West 2016: Booming Online!
The Big Bang North West 2016: Your Amazing Feedback!
The Big Bang North West 2016: A Teacher's View

Follow All About STEM on Twitter here
Like All About STEM on Facebook
Follow The Big Bang North West on Twitter here
Like The Big Bang North West on Facebook
« Back To News