November 22nd 2016
Educate Awards 2016: Gateacre School wins STEM Project of the Year!
We are overjoyed to announce that Gateacre School Liverpool, won the All About STEM, STEM Project of the Year award at The Educate Awards 2016! 
It was an amazing night for over 500 guests to celebrate the region's outstanding schools, inspirational teachers and support staff. As always the prestigious Educate Awards ceremony was beyond sensational with the Liverpool Anglican Cathedral lit up and dressed with a 'glitz and glam' theme. The event was hosted by actor and comedian Neil Fitzmaurice.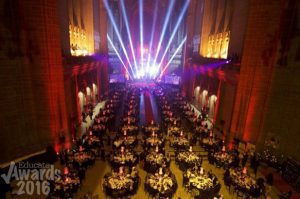 On Friday the 18th of November, a total of 21 awards were presented to innovative schools from Merseyside, Lancashire and Cheshire. Special performances by talented North West pupils included, a 300 strong Educate Awards Super Choir and Orchestra, BBC Young Musician finalist Andrew Woolcock, Formby High School's Mundo Afrika Choir and Winstanley College's, Jacob Maguire, Hannah Hill and Sarah Prescot.
The awards, in partnership with Copyrite Systems and Ricoh, is now in its fifth year and is the biggest celebration of education in the North West.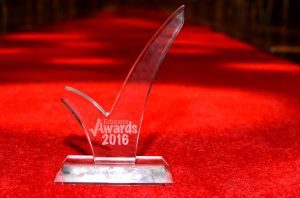 Kim O'Brien, founder of the Educate Awards, says: "The number of entries we had received is testament to the excellence and hard work seen in our schools and colleges across the North West. We are proud to host this event which champions the creativity, diversity and dedication of schools in Merseyside, Cheshire and Lancashire."
"As one judge so eloquently put it – 'It's so reassuring to know the next generation of children are in such good hands.' Congratulations to all of tonight's winners, runners up and shortlisted schools."
Associate sponsors at the awards include Hays Education, All About STEM, The Foundry Agency, Greater Merseyside Learning Providers' Federation (GMLPF), eCadets, The Bishop of Liverpool, LD Photography, Progress Schools, Kier Construction Northern, Merseyside Network for Collaborative Outreach (MNCO), The Student Support Centre, PCS Law, Capita Education, Wray Brothers, Educ8 Group, Liverpool School Sports Partnership (LSSP), School Improvement Liverpool Ltd, Liverpool John Moores University and the Witherslack Group Ltd.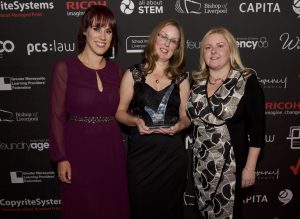 The STEM Project of the Year Award was awarded to Gateacre School for their ingenious 'Nursery Crimes' project. Imagine if Humpty Dumpty had a lightweight parachute that would protect him when he fell off the wall? The ideas brought science and engineering to life through thought and experimentation using traditional rhymes – thinking outside the box.
Rudston Primary School were awarded runner-up for their STEM-sational Giant Egg project, with Dovedale Primary School and St Margaret's CE Academy shortlisted.
All About STEM Managing Director Michelle Dow, said: "It is an honour and a pleasure for All About STEM to return as a sponsor for the Educate Awards. The awards recognise so many areas of education and the scope of categories is amazing. All About STEM are dedicated to facilitating and promoting STEM, what better way than to give recognition to schools who are excelling in the subject?"
"We had so many exciting and innovative entries and it was so hard to choose a winner! This event is the perfect way to celebrate all of our competitors achievements, congratulations to Educate and all of our staff and schools!"
Click here for a full list of winners

The Big Bang North West: BOOK NOW for our 2017 event!
Official Gallery: Thousands of children inspired at The Big Bang North West 2016!
The Big Bang North West 2016 Gallery: BBNW LIVE TWITTER 'TRENDING' NATIONALLY!
Headline Sponsors AstraZeneca 'Heat Up' The Big Bang North West
The Big Bang North West 2016: Booming Online!
The Big Bang North West 2016: Your Amazing Feedback!
The Big Bang North West 2016: A Teacher's View
« Back To News