January 13th 2017
RHS: Greening Grey Britain Campaign – Free Seeds!
Greening Grey Britain is an RHS initiative inviting the nation to help tackle the growing number of gardens and green spaces being paved over.
Thousands of people from communities and schools have already helped reverse this trend by greening up a grey area and now the Royal Horticultural Society are inviting you to help make 2017 a year of change!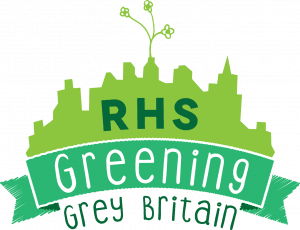 What can you do?
The RHS would like you and your group to identify an area in your local community that could do with a bit of colour – maybe an empty concrete corner or an ugly alleyway would benefit from a new pot plant or hanging basket. Or you might want to go even bigger and plant up a new flower bed for a local medical centre or nursing home.
There is a huge list of resources and ideas on their website to help you and to give you plenty of inspiration.
Free seeds!
If you sign up to take part in Greening Grey Britain, the RHS will send you a free packet of wild cornfield seeds which are all perfect plants for pollinators. You can use these seeds to help green the grey.
Win great prizes!
Help spread the word of Greening Grey Britain and win prizes by sharing your photos on Twitter using #GreeningGreyBritain and @RHSSchools. Prizes will be awarded every week so get snapping! Prizes include bulbs from Farmer Gracy, books, seeds and more gardening goodies.
If you decide to green up an area in your community, you may also be eligible to apply for the RHS Level 5 School Gardening Award and receive £200 in gardening gift vouchers.
Get greening…
Find out everything you need to know about Greening Grey Britain and sign up to receive your free seeds here.

The Big Bang North West: BOOK NOW for our 2017 event!
Official Gallery: Thousands of children inspired at The Big Bang North West 2016!
The Big Bang North West 2016 Gallery: BBNW LIVE TWITTER 'TRENDING' NATIONALLY!
Headline Sponsors AstraZeneca 'Heat Up' The Big Bang North West
The Big Bang North West 2016: Booming Online!
The Big Bang North West 2016: Your Amazing Feedback!
The Big Bang North West 2016: A Teacher's View
« Back To News