June 29th 2017
Big Bang North West: Educate Awards – Nominate, Enter, WIN!
As sponsors of the STEM Project of the Year, we are overjoyed that the Educate Awards are exhibiting at The Big Bang North West 2017!
The Educate Awards, now in its sixth year, is an annual celebration which aims to showcase the brilliance within the region's education sector. Open to all schools in the Liverpool City Region, Cheshire and Lancashire, the awards are the biggest of its kind and cover every aspect of a school's curriculum, teaching and staff.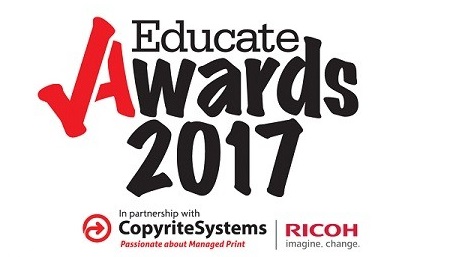 "We are here to promote the Educate Awards to pupils, teachers and schools. At The Big Bang North West, our stand will give pupils the chance to nominate their favourite teacher, take part in hands-on activities and win prizes! Teachers can find out more about the Educate Awards and how their school can get involved.
Put your school in the spotlight at the Educate Awards! The Educate Awards gives schools the opportunity to gain regional recognition in one of our 21 award categories.
Pupils can nominate their favourite teacher at the Big Bang NW for our coveted Teacher of the Year Award, which celebrates an inspirational individual who goes above and beyond the call of duty. Our stand will feature our very own 'ballot' style box to submit nominations!
Schools are also invited to enter their STEM-stational projects for this year's STEM Project of the Year Award. Science, Technology, Engineering and Maths is a fast growing industry in the UK which is providing careers for the future.
We're looking for schools that have developed a STEM based project during the academic year of 2016-17 providing an opportunity to develop an innovative and effective approach to encouraging pupils to engage with science, technology, engineering or maths.
It can be a project that has a focus on one element of STEM or can be a project that covers all four areas."
Don't miss your chance to nominate, visit the Educate Awards stand on the big day!
Educate Awards website
Educate Awards on Twitter

The Big Bang North West 2017
Big Bang North West 2017: Headline Sponsor AstraZeneca!
Official Gallery: Thousands of children inspired at The Big Bang North West 2016!
The Big Bang North West 2016 Gallery: BBNW LIVE TWITTER 'TRENDING' NATIONALLY!
The Big Bang North West 2016: Booming Online!
The Big Bang North West 2016: Your Amazing Feedback!
The Big Bang North West 2016: A Teacher's View
Follow All About STEM on Twitter here
Like All About STEM on Facebook
Follow The Big Bang North West on Twitter here
Like The Big Bang North West on Facebook
« Back To News