September 05th 2017
Enter the STFC First LEGO League tournament at Daresbury Laboratory!
The Science and Technology Facilities Council are pleased to announce their support for the prestigious FIRST® LEGO® League in one of their regional tournaments held at Daresbury Laboratory, on the 5th & 6th of December 2017.
FIRST® LEGO® League is a global science and technology challenge for teams of students, to encourage an interest in real world issues and develop key skills that are crucial for their future careers. The students work together to explore a given topic and to design, build and program an autonomous LEGO robot to solve a series of missions.
FLL is for young people aged 9 to 16 years, working in teams of up to ten students with a supporting adult coach. Each year FLL releases a new challenge for the teams and this year's theme is Hydro Dynamics – incorporating how humans find, transport, use and dispose of water!
The challenge involves a robot game and a research project, and students will need to demonstrate the FLL core values throughout all their work.
Teams usually have twelve to sixteen weeks to work on the challenge before they compete in their chosen Regional Tournament.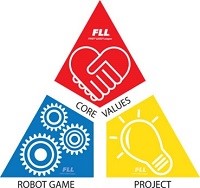 At the tournament, teams will score points on each of the three parts of FLL:
Robot Game
Teams build a robot using a LEGO® MINDSTORMS® kit that they program to autonomously complete a series of missions on a specialised field and to score as many points as possible.
Project
Through the project, teams learn more about the science and engineering behind the challenge theme. The teams identify a problem related to the theme, research the issues and propose a solution.
Core Values
While competing, the teams have to demonstrate core FLL values including Gracious Professionalism® and Coopertition®, encouraging high quality work, unqualified kindness and respect and learning.
The winners of the Regional Tournaments go forward to the UK and Ireland Final. The top teams from the UK and Ireland Final will then be invited to compete at the FLL World Festival in the USA or at other international FLL events.
Please contact Wendy Cotterill (STFC Senior Public Engagement Officer) should you wish to be involved or click here for more information.
The Big Bang North West 2017: A STEM-sational Success with Schools!
Headline Sponsor: AstraZeneca Inspire All at The Big Bang North West
Official Gallery: The Big Bang North West 2017
Big Bang North West 2017: The Movie!
Go Virtual with The Big Bang North West!
The Big Bang North West 2017: Your Amazing Feedback
The Big Bang UK Competition: Finalists & Award Winners!
Big Bang North West 2017: A Teacher's View

Follow All About STEM on Twitter here
Like All About STEM on Facebook
Follow The Big Bang North West on Twitter here
Like The Big Bang North West on Facebook
« Back To News