December 05th 2017
Practical Action: CREST Awards news & resources
Strengthening its links to the British Science Association's CREST award scheme Practical Action has two new exciting pieces of news!
Firstly, it has a new area on its website, highlighting which of its materials are accredited for which level of CREST award, with some general guidance for teachers new to CREST who might want to explore using it with their pupils for the first time. CREST is suitable for pupils 7-18.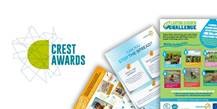 Secondly, it has produced some new materials to help secondary pupils interested in global issues gain a bronze – gold level CREST award.
These 'Global Project Ideas' are linked to the UN Global Goals (or Sustainable Development Goals). They are also perfect for an A level extended project and can be used as part of D of E. They contain a range of ideas for starting points, plus links to useful websites and secondary sources of information such as technical briefs.

The Big Bang North West 2017: A STEM-sational Success with Schools!
Headline Sponsor: AstraZeneca Inspire All at The Big Bang North West
Official Gallery: The Big Bang North West 2017
Big Bang North West 2017: The Movie!
Go Virtual with The Big Bang North West!
The Big Bang North West 2017: Your Amazing Feedback
The Big Bang UK Competition: Finalists & Award Winners!
Big Bang North West 2017: A Teacher's View

Follow All About STEM on Twitter here
Like All About STEM on Facebook
Follow The Big Bang North West on Twitter here
Like The Big Bang North West on Facebook
« Back To News