July 24th 2019
Big Bang North West 2019: Sensational STEM on the ScottishPower Show Stage!
Since 2016, ScottishPower have wowed the crowds at The Big Bang North West as our Sensational Show Stage sponsor. This year was undoubtedly their best yet, their performance space was awe-inspiring and the audience showed their appreciation with squeals, cheers, dancing & excitement!
On the ScottishPower Show Stage attendees could witness phenomenal science & fire demonstrations, experience terrific technologies & interact with amazing animals.
Mairi Elder, Early Careers Manager, ScottishPower said; "We were delighted to return for our fourth year as sponsor for the Show Stage at Big Bang North West, an event which plays a vital role in inspiring young people to become the engineers and scientists we will need to address the future challenges faced by the energy sector."
We can't thank ScottishPower enough for their ongoing support. Just look, it was standing room only at every show!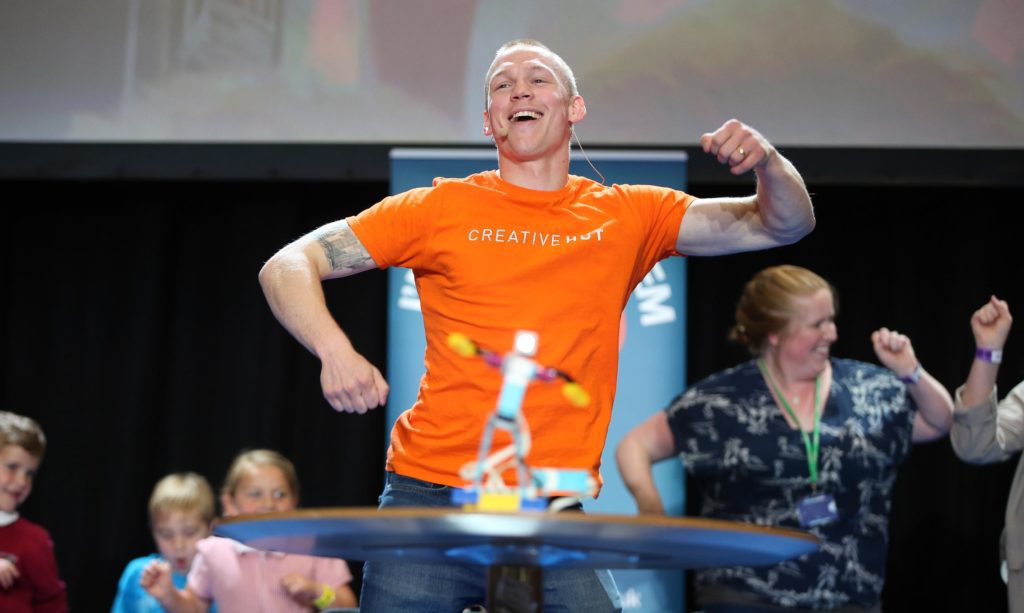 This was one of the first times that SPIKE Prime had been seen in the UK!
SPIKE Prime helps pupils learn the essential STEAM skills needed to become the innovative minds of tomorrow… and it's so much fun! Did you code, build & boogie with the bot? Everyone was on their feet & flossin'.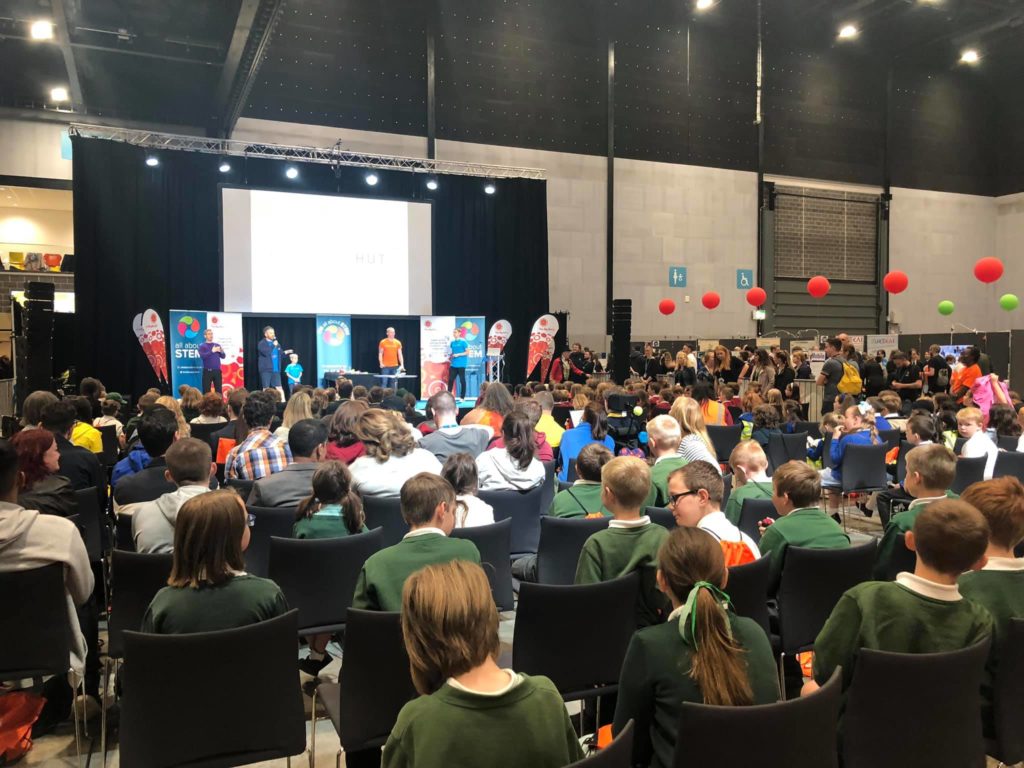 "What an incredible day, it was fantastic to meet with so many young people and see how enthusiastic they were about STEM, always eager to get hands-on and experiment with the LEGO Education Robotics. There were definitely a lot of budding engineers, scientists and programmers at the event and we can't wait to see what they achieve in their future careers!" – Neil Taylor, Creative HUT, LEGO Education.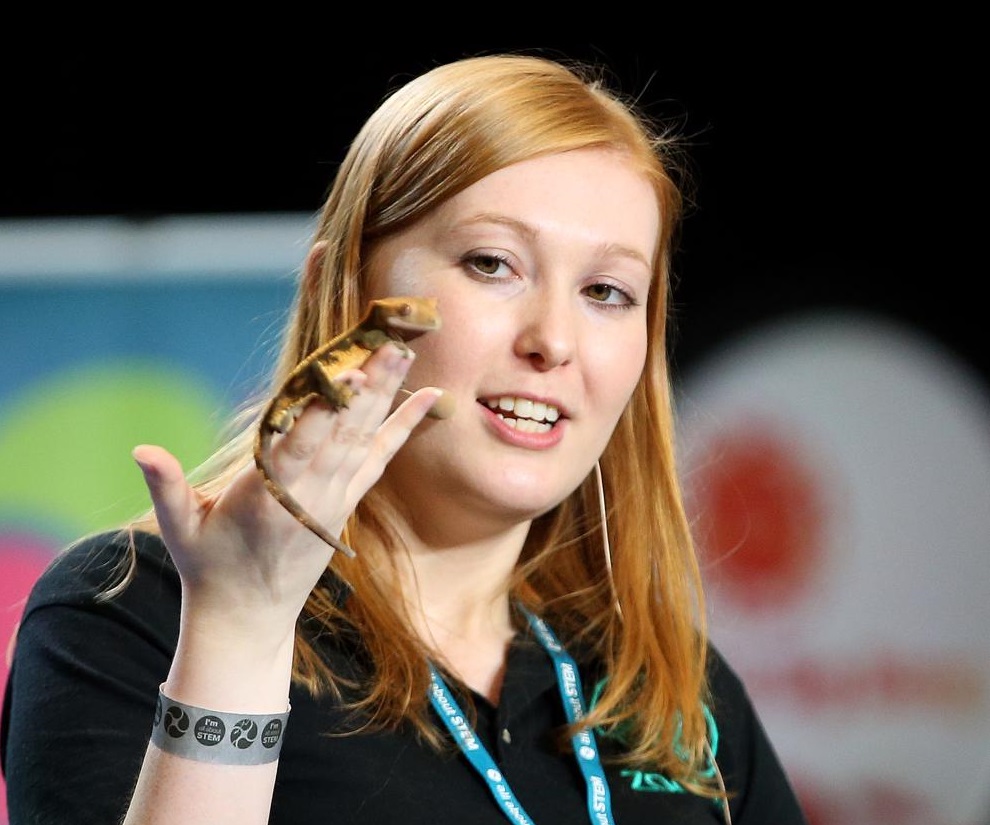 This was no ordinary animal encounter… did you know that creatures inspire STEM? Fascinating!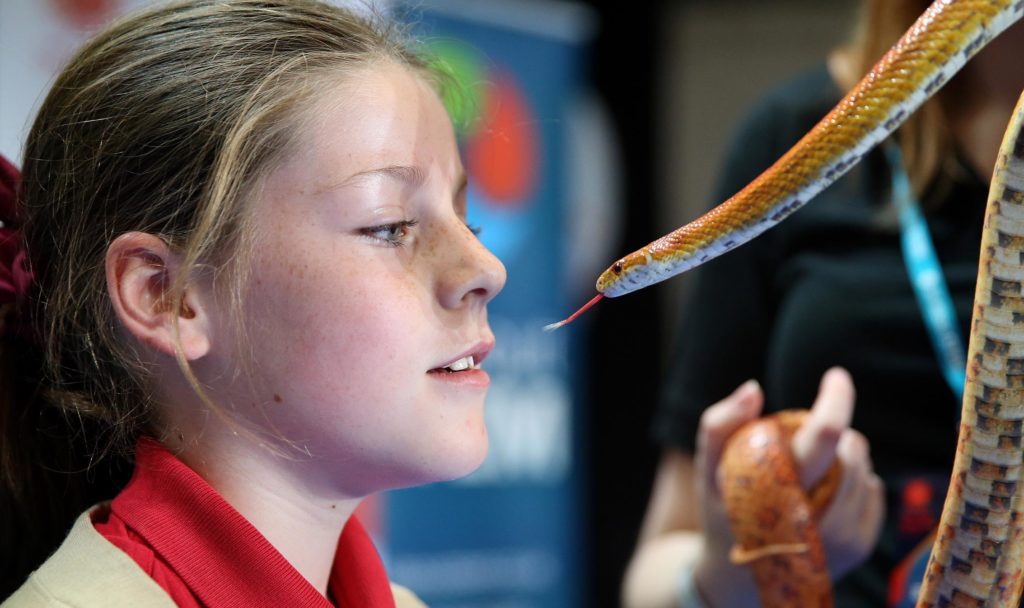 "We loved being a part of The Big Bang North West 2019, at Zoolab we are always keen for people to get up close and hands on with nature, but we especially love bringing our animal gang to STEM festivals like this because biological science sometimes get overshadowed by all the amazing experiments and explosions going on. We delivered our Biomimicry sessions on stage and gave everyone amazing insight into this amazing science of where nature has inspired us humans to make new materials, technology and engineer new structures and architecture. All whilst giving everyone the chance to get up close and hands on with Snakes, Lizards and Tarantulas. It was a huge amount of fun, we hope to be a part of lots of future events too!" – Phillip Burnett, Zoolab.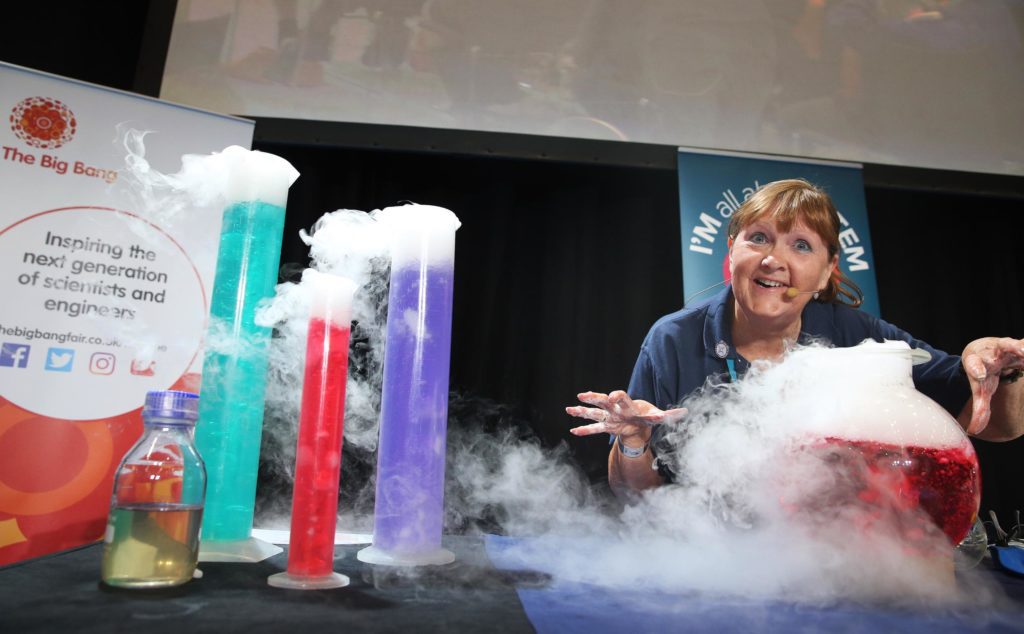 Science 2 U – I Wasn't Expecting That!
A show packed with OMG moments including 'shake to wake-up' science, giant rainbow test tubes, invisible gel balls, giant freaky hands, tons of dry ice, a WOW whoosh bottle and INCREDIBLE fire clouds!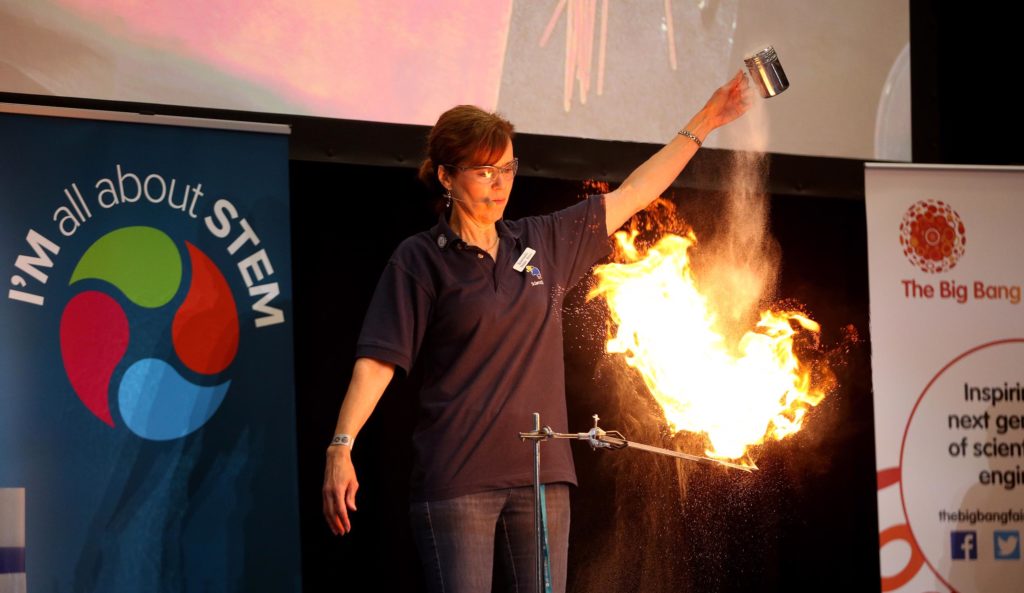 "It was a huge thrill to be back on the main stage again and we both had an amazing time. Having Andy there as ringmaster made it fun and Andrew signing on stage added such a new dimension to our show. I think you can tell from the photos just how much we enjoyed sharing our science with the audience. It was quite an adrenaline rush!" – Sue Halliday, Science 2 U.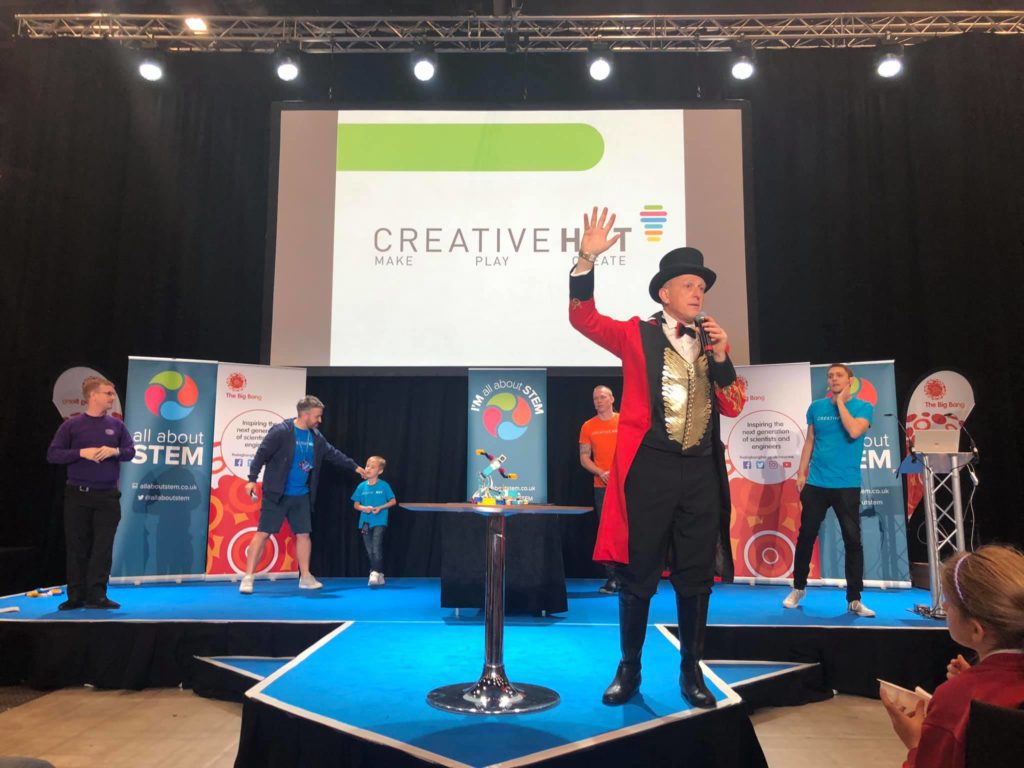 Compère – The Digital Ringmaster!
Our Digital Ringmaster, Andy Kent, entertained the masses & led our celebration of education & innovation on stage.
Andy was joined for every performance by our brilliant British Sign Language interpreter, Andrew Higgins. Along with being all about The Big Bang North West, All About STEM is all about accessibility too.
"It was a privilege to be asked to return to compere the Scottish Power Show stage at the Big Bang North West. This year was the best ever!
The arena was absolutely packed full of students, teachers and amazing companies who together make this possibly the best educational event in the country each year.
It was great to also have Andy Higgins on stage with me – I did my best to keep him on his toes with some really challenging words but he went above and beyond and gave us plenty of chances to teach the audience a number of useful phrases that they can all now sign.
The best part of the day is hearing all the amazing stories and the takeaways from the children who leave feeling totally inspired – I love seeing all the photos which will forever be a reminder of something truly spectacular. The team at All About STEM really do put on the Greatest Show and I am chuffed to play a small part in that too!"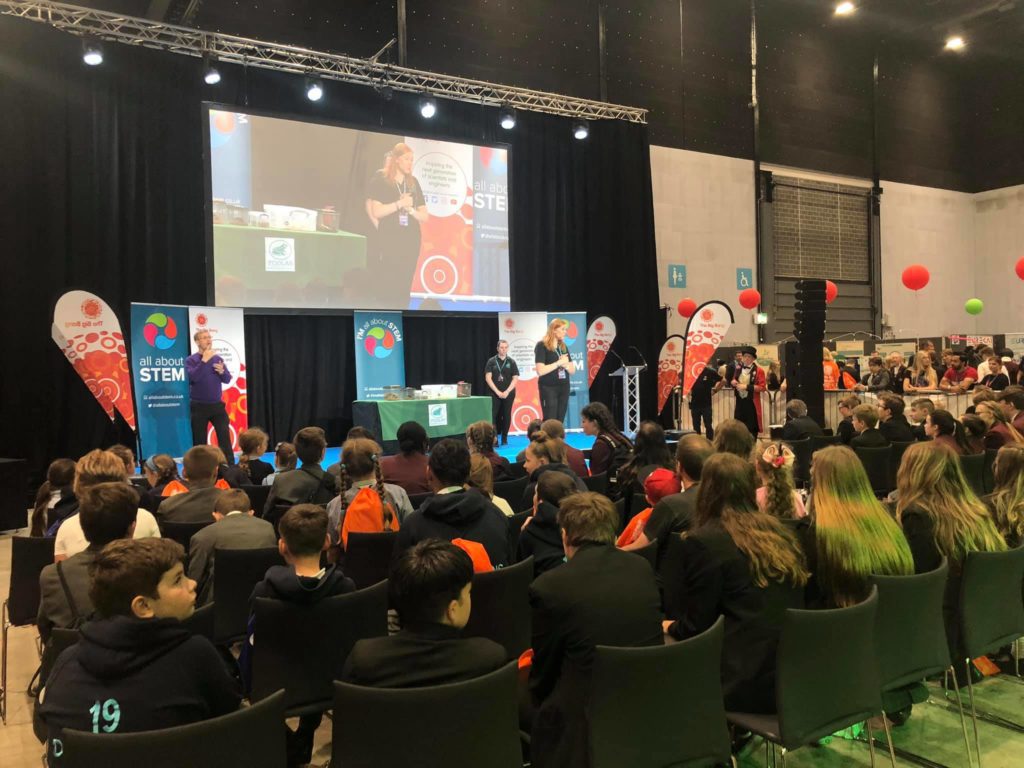 In addition to their sensational Show Stage, ScottishPower sponsored our Bright Spark Award as part of The Big Bang UK Young Scientists & Engineers Competition at The Big Bang North West.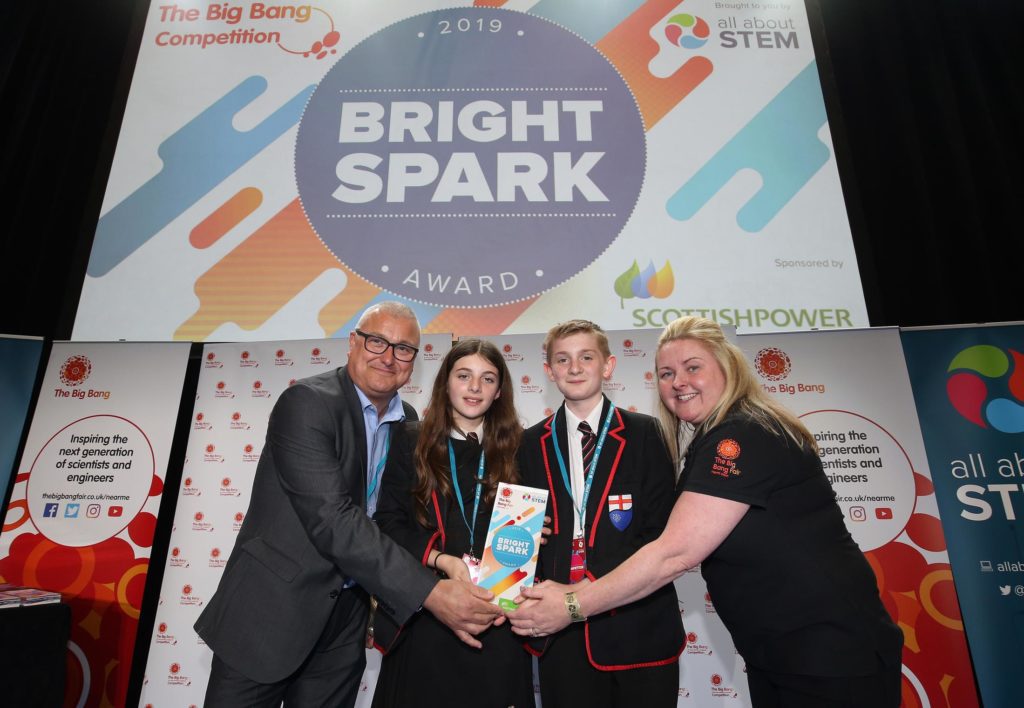 Bright Spark Award – ScottishPower
Winning School: Ellesmere Port Church of England College
Project: Reducing Water Usage when Washing Hands
The ScottishPower team also exhibited at this year's event with a stand packed with exciting and interactive activities. Students learned about conductors & insulators before picking up their energy sticks to becoming a human circuit – WOW!
What an awesome day! We hope all of our attendees enjoyed every show-stopping performance & activity.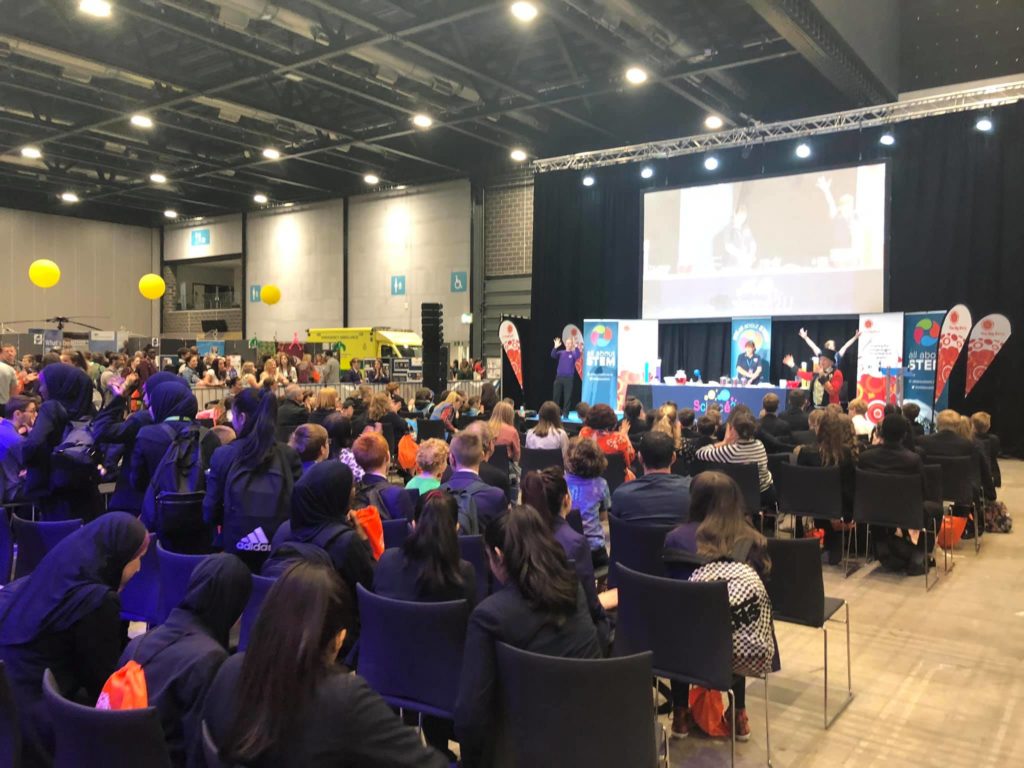 Images courtesy of Gareth Jones & All About STEM
Big Bang North West 2019: 8000 Children Celebrate STEM!
Big Bang North West 2019: Your Fantastic Feedback!
Big Bang North West 2019: Official Images
Big Bang North West 2019: LIVE Twitter Gallery
Big Bang North West 2019: Big Bang UK Competition Winners!
Big Bang North West 2019: Unilever Inspire Thousands with Sensational & Sustainable Science

Follow All About STEM on Twitter here
Like All About STEM on Facebook
Follow The Big Bang North West on Twitter here
Like The Big Bang North West on Facebook
« Back To News