December 17th 2019
Apprenticeships: Free Downloadable Posters!
Amazing Apprenticeships offer a collection of 'free to download' posters for schools & colleges to engage & inform young people on apprenticeship opportunities.
Their latest addition showcases a selection of engineering careers available via apprenticeship routes.
Download the poster for free here.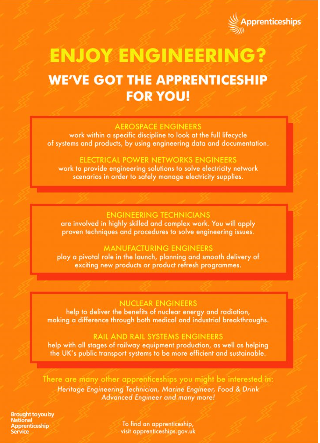 Click here for more FREE apprenticeship posters by subject!
T Levels: New 2 Year Technical Qualifications
ASK: Free Apprenticeship Webinars
ASK: Video – What are apprenticeships?
Amazing Apprenticeships: Monthly Parent Packs
All About STEM & (ASK) Apprenticeship Support and Knowledge for Schools
Did you know that Apprenticeship participation now stands at a record high level?
Did you know that there can be up to 23000 apprenticeship positions available across England at any one time & you can complete a degree during an apprenticeship?
If you didn't know the above, you are not alone and All About STEM is working in Cheshire, Warrington, Knowsley & Wirral to help make sure that schools, colleges and their students are fully informed about the brilliant opportunities that apprenticeships offer.
In March 2017 All about STEM started to deliver the (ASK) Apprenticeship Support and Knowledge for Schools project (commissioned by the National Apprenticeship Service).
The project works with school and colleges to ensure they are getting the support they need to fully promote apprenticeship by ensuring they are provided with up to date information and guidance about apprenticeships.
To find out how your school can benefit from the free support available from the project, contact Dave Armson ([email protected]).

SCHOOLS: The Big Bang North West 2020 is open for booking!
Big Bang North West 2020: Headline Sponsor – Unilever

Look back: Big Bang North West 2019 – 8000 Children Celebrate STEM!
Look back: Big Bang North West 2019 – Your Fantastic Feedback
Look back: Big Bang North West 2019 – The Movie
Follow All About STEM on Twitter here
Like All About STEM on Facebook
Follow The Big Bang North West on Twitter here
Like The Big Bang North West on Facebook
« Back To News