April 02nd 2020
Home & School Learning: STEM/STEAM Resources Collection 10
There's no need to ride the search engines, hop off at All About STEM's Inspiration Station!
During this time, we know that teachers and parents are surfing the web looking for fun, interesting activities for their children. Supporting this mission is our priority so every weekday we will be sourcing and sharing home & school resources, competitions, virtual tours, videos, ideas, awards and more!
We'll also be listing activities to promote positivity, mindfulness and exercise.
Click here to see all of our collections.
It's our 10th All About STEM Inspiration Station today so we'll be celebrating 10 of our partners by featuring STEMsational primary & secondary activities from them!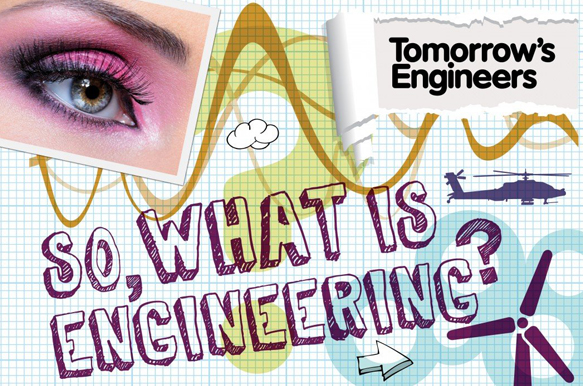 EngineeringUK works in partnership with the engineering community to create amazing programmes to inspire tomorrow's engineers.
Tomorrow's Engineers:

Engineering Activity Booklets
– Cargo Drop & Bath Fizzies are great for home, we love Snacktory Factory too as you can adapt this a little to make your own Snack Delivery System!

Quiz: Meet the future you!
What is Engineering? – Posters, Booklets, Ideas, Resources
TE Robotics Challenge:

The Challenge is currently for schools but the Brain Bots section has some awesome engineering questions to use as project starters. Great for home learning!

Big Bang Fair:

Make Slime! Can it be calming? Test it out…
Can playing with slime significantly relax you in a stressful situation?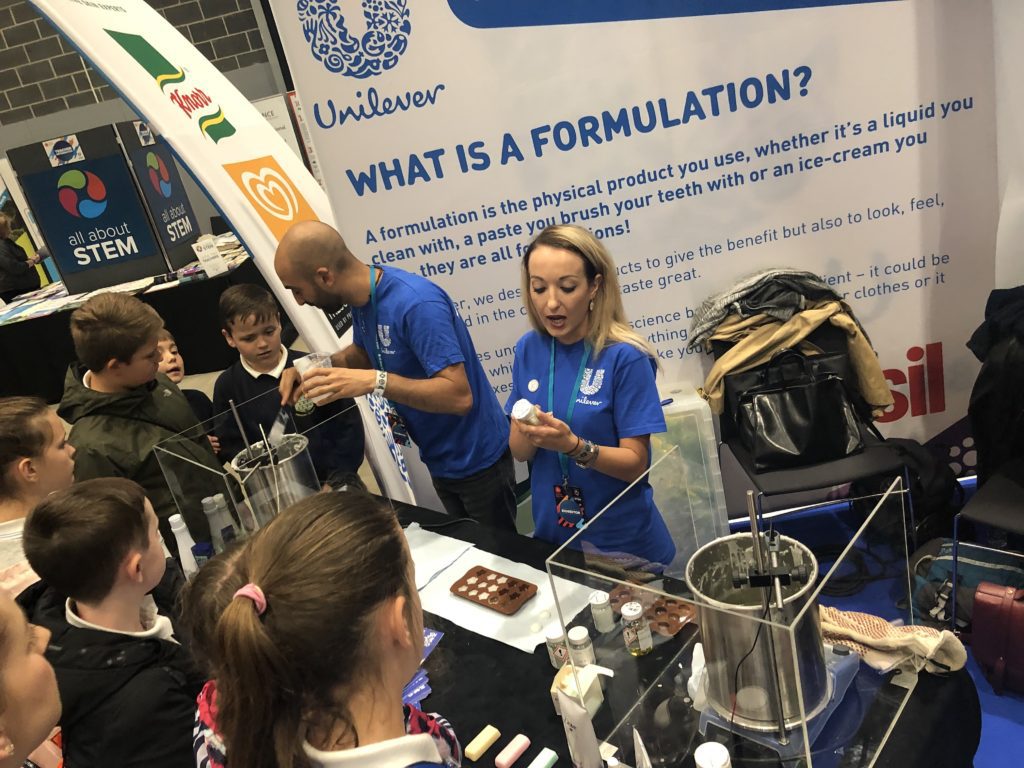 Unilever is one of the world's leading fast-moving consumer goods companies (with an extensive plan in place to help the planet).
It's important for children to think about sustainability, food & energy too.
Travel back in time & take a look at these videos from Unilever's Live Better Challenge. See if you can answer the questions & make your own project on how you can stop food waste & save energy.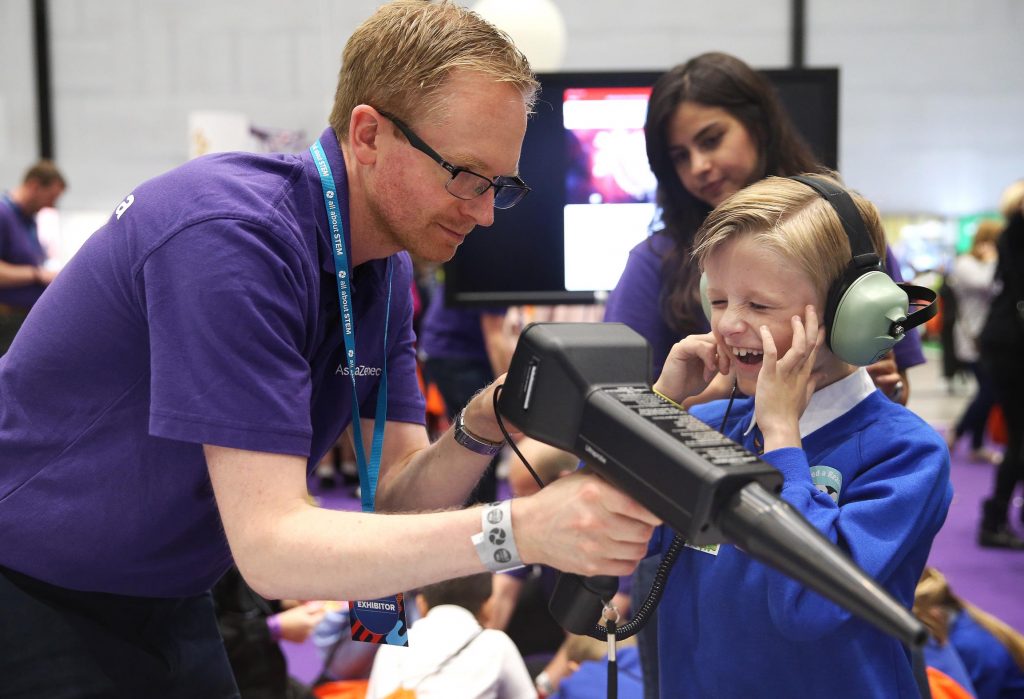 AstraZeneca's goal is to push the boundaries to deliver life-changing medicines.

Discover the fascinating science involved in the pursuit of a new medication via their Generation Health Virtual Field Trip.

If you prefer downloadable resources, AstraZeneca teamed up with the Centre for Science Education to create this collection.

Try:
Any Old Evidence
Colour Questions
Life on Mars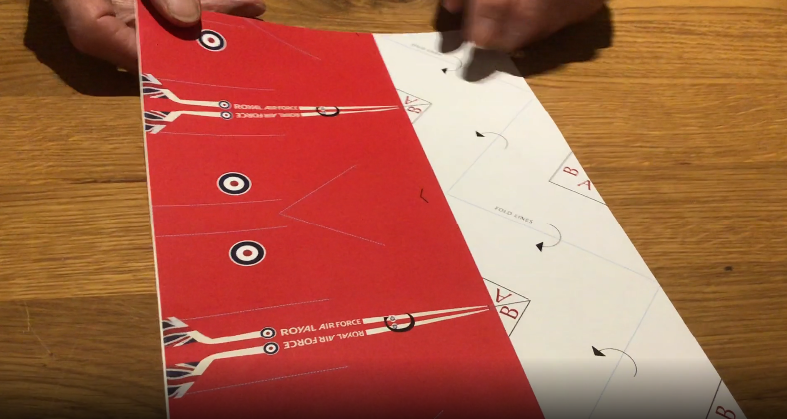 The Royal Air Force have provided a plethora of home & school activities for primary & secondary learners!
There is an age specific primary learning booklet and engineering challenges for older children. Projects range from communication to codes and weather to construction.
Be sure to check out their 'build your own' section, you can make a Dakota, F35, Lancaster & even a Red Arrow!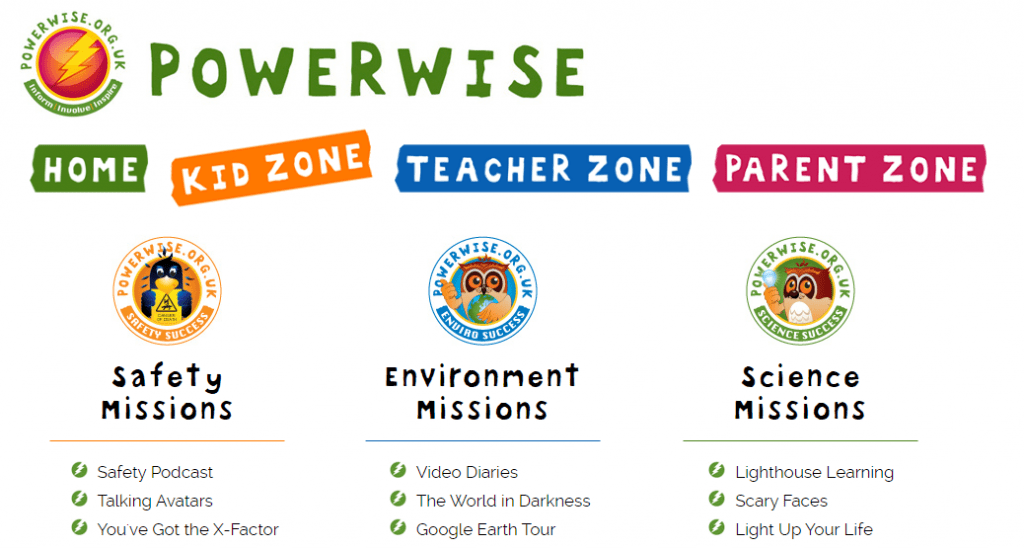 ScottishPower introduced PowerWise to help young people to stay safe, be responsible and spark their interest in the future of electricity. Visit their site for games, podcasts, fun projects & ideas!
CreativeHUT are now offering a range of free online training sessions and webinars to support students, parents and teachers.

There will be a mixture of parent, teacher and student focused events.
Click here to see the list of events & book.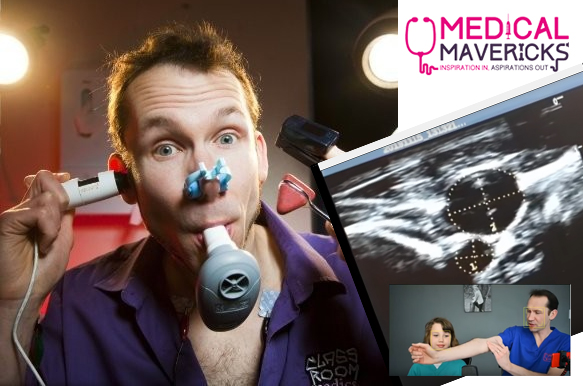 Medical Mavericks have started a series of live videos on social media to introduce young people & children to healthcare, medicine & the human body.
This week's demonstration was of Tom's heart & blood vessels by ultrasound but they have so many awesome clips, too many to count.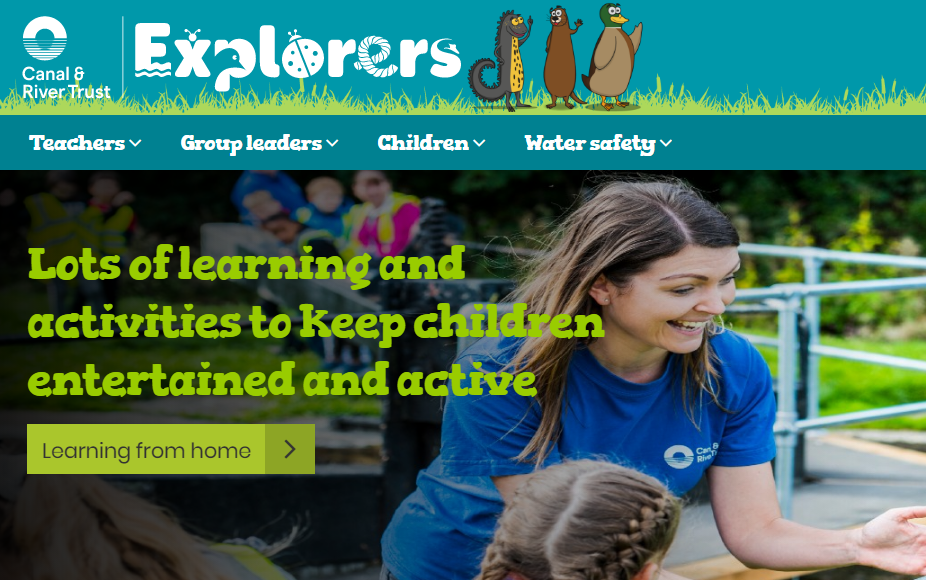 Be a part of the Canal & River Trust Explorers Programme!
They have online games, learning from home activities, posters & puzzles. They even have projects that can earn you a CREST Award.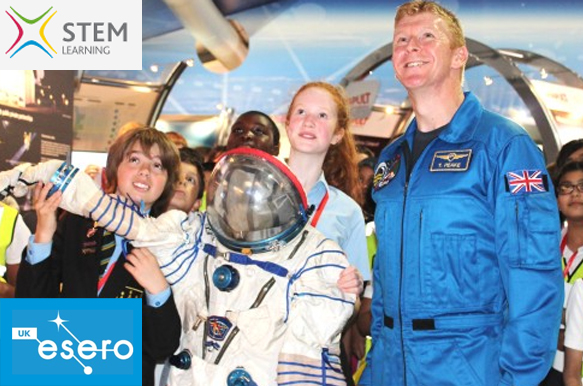 STEM Learning are offering open-access science, technology, engineering and mathematics resources for teachers, parents and carers to support home learning. Try their primary 'Starters for STEM' or choose a subject from their extensive secondary home learning section!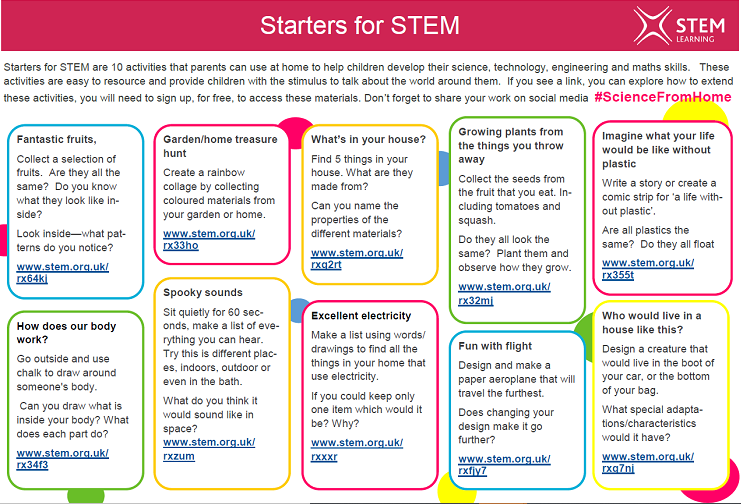 If you have space fans at home STEM Learning also offer fantastic ESERO resources. You can train to be an astronaut, build your own satellite and more!
Schools running online STEM clubs could benefit from these activities and resources.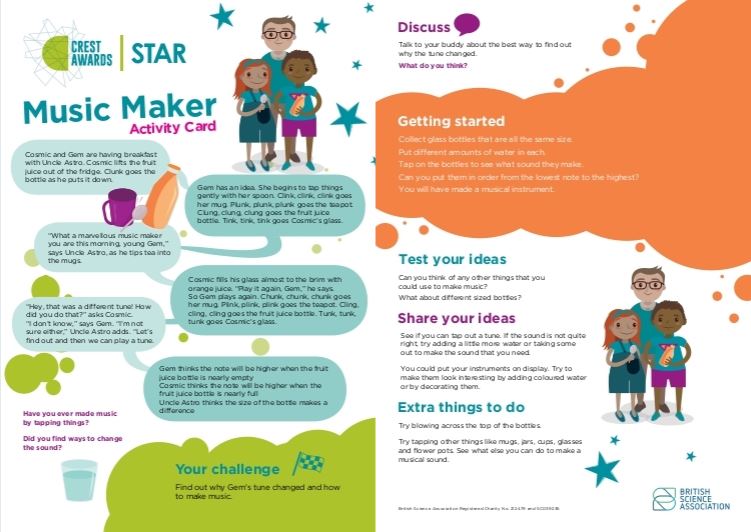 Whatever your child's age, CREST is fantastic for home or school.

During a CREST Award project, students take on the roles of scientists, researchers, engineers and designers to pursue their own ideas!

There are colourful step-by-step learning booklets for all years & CREST Discovery Awards can be completed in one day.
Take a look at the awards & projects here…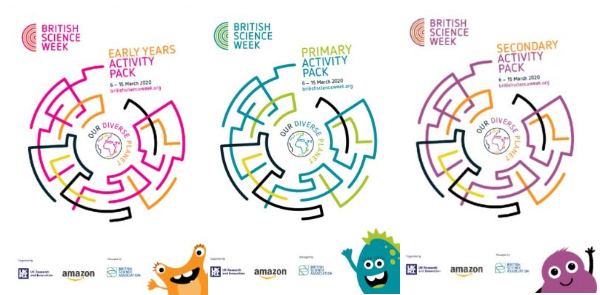 British Science Association – Awesome FREE activity packs for children of all ages.
Reading Rocks have been sharing live lessons & activities to support home learning using conservation books – take a look!

Tune in every Monday, Wednesday & Friday on twitter at 11am.
For Older Children & School Leavers:
Apprenticeships: Amazing Apprenticeships are offering online resources, parent packs & wellbeing workshops.
Careers & Enterprise: The Careers & Enterprise Company are sharing recommended virtual resources and home learning ideas.
Don't forget to follow All About STEM on Twitter & Facebook as we'll be posting more resources there.

-Tag us @allaboutstem to highlight useful resources and we will feature them or pass them on.

-Tag us in your home or school project photos and inspire others. We'd love to share them and celebrate your children's success!
We know this is a very difficult period. We will try our best to showcase enriching educational activities and help you find what you need in the shortest time.
Keep it fun, keep smiling, keep safe
– Team All About STEM

Follow All About STEM on Twitter here
Like All About STEM on Facebook
Follow The Big Bang North West on Twitter here
Like The Big Bang North West on Facebook
« Back To News