October 10th 2016
STAR STEM Ambassador: Elaine McFarlane!
It's not just All About STEM who 'make it happen', our sensational STEM Ambassadors visit schools and events for FREE to support learning, teach workshops and pass on their amazing experiences. 
Today we're highlighting another of our STEM stars, a woman in STEM with an inspirational career who is a sensational role model… Elaine McFarlane!
In 1974 Elaine started working in the General Analysis lab in the Oil Products Testing Group at Thornton Research Centre (Shell's R&D facility). After learning basic laboratory skills she moved to the Aviation QC lab and rose through the ranks to Test Report signatory, taking sole responsibility for releasing aviation fuels.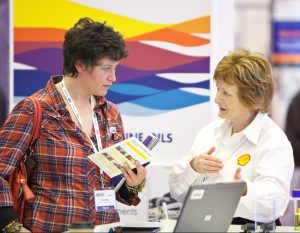 In 1986 Elaine joined the Surface and Colloid Science group as Assistant Scientist specialising in surface chemistry and particle size techniques. With two children, she left Shell in 1994 to become a full time student. Regardless of the challenge of full-time study & a young family, Elaine graduated with a BSc (Hons) in Health and Community Studies.
On returning to Shell, Elaine joined the Aviation Performance and Properties Group designing and executing experiments. Unbelievably she also managed to complete her Master's Degree part-time in Environmental Biology at the University of Chester.
In 2000, Elaine joined the Retail Fuels Group as Senior Assistant Scientist developing user-friendly field test kits for measuring fuel properties. She moved on to Fuels Scientist in 2004 working on the development of "hands- on" demonstrations and videos to show product benefits. This work required a very creative and innovative mindset and often involved cutting edge 3D effects. These tools have been showcased at many trade shows and global events.
Elaine chaired a session at the International Symposium on Applied Microbiology and Molecular Biology in Oil Systems conference 2009 and was subsequently invited to write a chapter in the externally published conference proceedings. By 2014 she was shortlisted for Chartered Environmentalist of the Year and an EI Individual Achievement Award.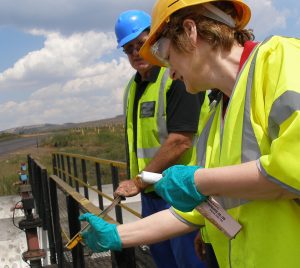 To name but a few, Elaine chairs the Energy Institute's Aviation Miscellaneous Test Methods Panel, as a Chartered Environmentalist, Chartered Scientist and Member of the Energy Institute.  She also chairs the Energy Institute Microbiology Committee and is a Chartered Biologist and Member of the Royal Society of Biology.
"Throughout all my time at Thornton at my different job levels, I have worked with young people in one capacity or another: Youth Training Scheme, Work Experience, STEM and Year in Industry.  I feel very privileged and honoured to have had the opportunity to make a small difference in the lives of these young people.  It is so satisfying to see them grow and gain in confidence.  I am still in touch with many of them."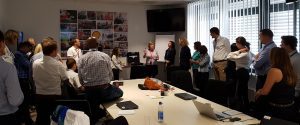 As well as working as a STEM Ambassador, this year Elaine was nominated for Cheshire Woman of the Year for acting as a role model and encouraging women into science. She has also volunteered twice with Earthwatch.
Could you be our next STAR STEM Ambassador?
You can find out more about becoming a STEM Ambassador here. You really can make a difference and help inspire the thinkers of the future… just like Elaine!
Request a STEM Ambassador for your school…
Official Gallery: Thousands of children inspired at The Big Bang North West 2016!
Big Bang North West 2016: The Movie
The Big Bang North West 2016 Gallery: BBNW LIVE TWITTER 'TRENDING' NATIONALLY!
Headline Sponsors AstraZeneca 'Heat Up' The Big Bang North West
The Big Bang North West 2016: Your Amazing Feedback!
The Big Bang North West 2016: A Teacher's View

Follow All About STEM on Twitter here
Like All About STEM on Facebook
Follow The Big Bang North West on Twitter here
Like The Big Bang North West on Facebook
« Back To News