October 07th 2016
The Big Bang North West: Merchant Taylors' host Big Bang @ School event with Countdown's Rachel Riley
We were overjoyed to welcome Countdown's Rachel Riley to our latest Big Bang @ School event in conjunction with Merchant Taylors' School. Along with our celebrity Keynote Speaker & academic Guest Speakers Dr Anna Slater and Dr Melanie Windridge, we had careers, interactive workshops and fun activities!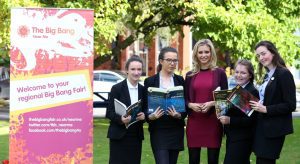 Merchant Taylors' host Big Bang @ School event with Countdown's Rachel Riley
On the 6th of October 2016, The Big Bang North West facilitated their latest Big Bang @ School event, organised & hosted by Merchant Taylor's Girl's School, Crosby.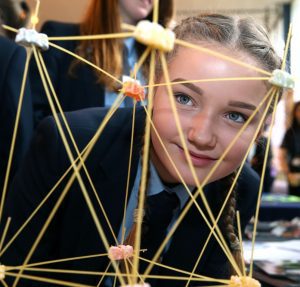 It was an exciting day, aimed at inspiring young women to study STEM based subjects including a special appearance by Countdown's Rachel Riley as keynote speaker.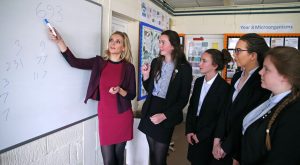 Rachel talked passionately about her background in maths, hosted a Q&A with students and demonstrated her maths skills by passing on some top tips!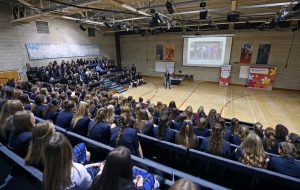 Rachel began by dispelling a few maths myths: 'There's no such thing as a maths brain. You just need to work hard & practice. I had to relearn my times tables by listening to them for Countdown.'
Attendees wanted to know about her own experiences: 'Me? I'm inspired by a project that wants to send nano spaceships to the next star system. My favourite things are applied maths & studying time travel and my craziest showbiz story was when I met Stephen Hawking, he's a bit cool! I love doing things that scare me but challenging myself & making it happen!'
And finally, had she ever made a mistake on Countdown? 'Yes! The producers laugh when I get a word wrong, I'm a maths geek! But you're always learning when you get it wrong. Be resilient & go at it again!'
The day also included talks from guest speakers Dr Anna Slater and Dr Melanie Windridge. Dr Anna works at the University of Liverpool in the Department of Chemistry. Her research has resulted in her being awarded the Royal Society-EPSRC Dorothy Hodgkin Fellowship and she has also been nominated for a Women of Future Award.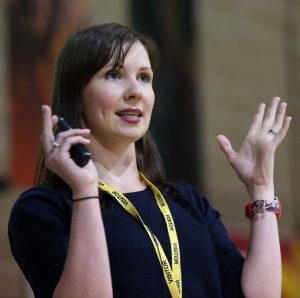 Dr Melanie is a plasma physicist with a PhD in fusion energy from Imperial College London. An expert in the aurora and in fusion energy, she likes to combine her scientific knowledge and experience with her love of adventure to promote a better understanding of Science.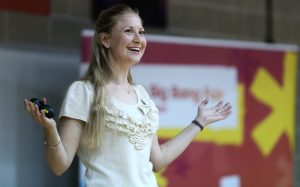 Truly inspirational women in STEM!
Schools from across the region were invited on the day, including Chesterfield High School, Hillside High, Deyes High, Archbishop Beck, Broadgreen International, Formby High and St Michael's.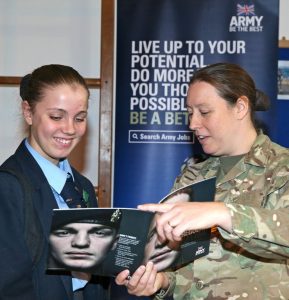 Everyone had the opportunity to attend a careers fair with a wide range of companies and Universities including Unilever, Sellafield, Jaguar Landrover, Amec and Liverpool Hope University.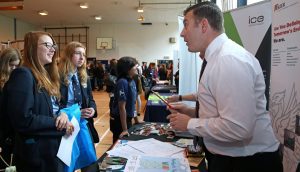 There was also the chance to get to hands-on with numerous experiments & workshops.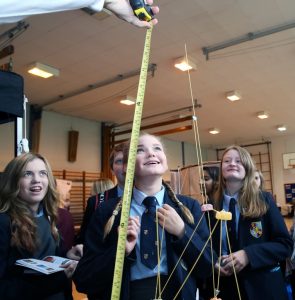 Activities included everything from sums to structures, even Rachel wanted to have a go!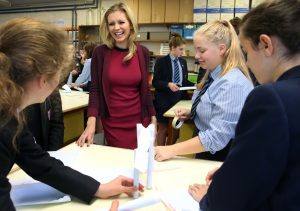 Gallery: Relive this STEM-sational day…
Liverpool Echo: Watch Countdown star Rachel Riley visit Merseyside School
Educate Magazine: Merchant Taylors' host Big Bang event with Rachel Riley
The Big Bang North West facilitates Big Bang @ School events free of charge to provide an opportunity for students to discover the amazing careers available in Science, Technology, Engineering & Maths (STEM).
Is your school coming to The Big Bang North West 2017?
The Big Bang North West: Express your interest for our 2017 event!
Official Gallery: Thousands of children inspired at The Big Bang North West 2016!
The Big Bang North West 2016 Gallery: BBNW LIVE TWITTER 'TRENDING' NATIONALLY!
Headline Sponsors AstraZeneca 'Heat Up' The Big Bang North West
The Big Bang North West 2016: Booming Online!
The Big Bang North West 2016: Your Amazing Feedback!
The Big Bang North West 2016: A Teacher's View

« Back To News