February 13th 2017
Big Bang North West 2017: Volunteers Wanted!
We need volunteers for The Big Bang North West 2017!
The Big Bang North West 2017 is coming. We are bigger and better, we have a new date and an amazing venue that is the Exhibition Centre Liverpool. Schools from across the region are looking forward to fire shows, dry ice, gadgets, robots, coding, creatures, science, medical magic and so much more…
It's going to be an amazing day! Could you be one of our volunteers and help 'make it happen'?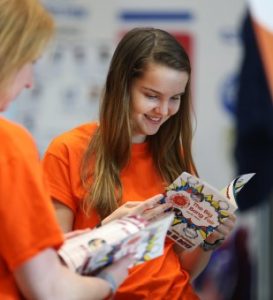 "As a first-time volunteer I wanted to thank the All About STEM Team for making me feel so welcome and useful. The training session really helped prepare me and I found the whole experience fabulous! The 'break out room' was a great space to recharge and the treats were a lovely gesture – well done!" [Kirsty Martin – Event Volunteer 2016]
If you would like to get involved on the day by volunteering some time we would love to hear from you.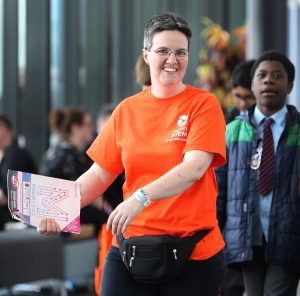 There are lots of different types of volunteer roles available, we need event assistants, guides, workshop assistants and more. We can match up your skills with how much time you would like to give and we guarantee you will be making a difference.
"All of our volunteers thoroughly enjoy taking part, it's a busy, interesting, fantastic experience and a lot of fun!"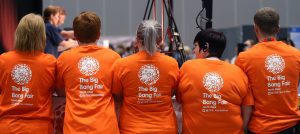 You can apply to volunteer by submitting the following information:
– Name
– Company, College, Organisation (if applicable)
– Why you want to volunteer
– Have you ever volunteered before
– Details of STEM background or interests if any (ambassador/education/work)
Click to submit your information and apply…
Please note that volunteer numbers are based on set positions within the event, therefore we may not be able to find roles for all who apply.
To volunteer you must be available on Tuesday 4th July 2017 to attend The Big Bang North West at the Exhibition Centre Liverpool, you will also need to attend a training session and complete DBS checks.

The Big Bang North West: BOOK NOW for our 2017 event!
Official Gallery: Thousands of children inspired at The Big Bang North West 2016!
The Big Bang North West 2016 Gallery: BBNW LIVE TWITTER 'TRENDING' NATIONALLY!
Headline Sponsors AstraZeneca 'Heat Up' The Big Bang North West
The Big Bang North West 2016: Booming Online!
The Big Bang North West 2016: Your Amazing Feedback!
The Big Bang North West 2016: A Teacher's View
Follow All About STEM on Twitter here
Like All About STEM on Facebook
Follow The Big Bang North West on Twitter here
Like The Big Bang North West on Facebook
« Back To News