March 24th 2017
All About STEM: Unilever Bright Futures Celebration & Assessment Awards!
All About STEM work in partnership with Unilever Bright Futures and were delighted to collaborate on the Unilever Bright Futures Celebration & Assessment Awards, what an amazing day!
Following our Unilever Teacher Twilight sessions in September and on-site Student Activity Days in November, students from 21 local schools returned to Unilever Port Sunlight on the 23rd of March to present their project work.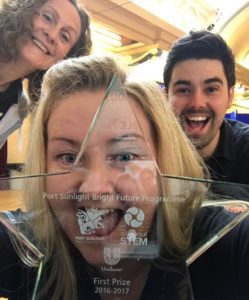 Winning teams who completed Unilever's STEM-sational challenges and impressed the judges took home these prestigious awards… yes, and monkeys too!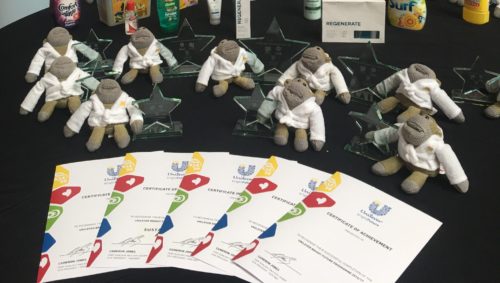 The day began with schools presenting their projects for the judges, there were three challenges to choose from:
Recycle To Improve Lives
Find a way to extend the life of a Unilever bottle or sachet so it can be used to improve the lives of women.
It All Adds Up…
Develop a product so people use 50% less water when showering.
Clean Hands For All…
Design a product that encourages children in developing countries to wash their hands.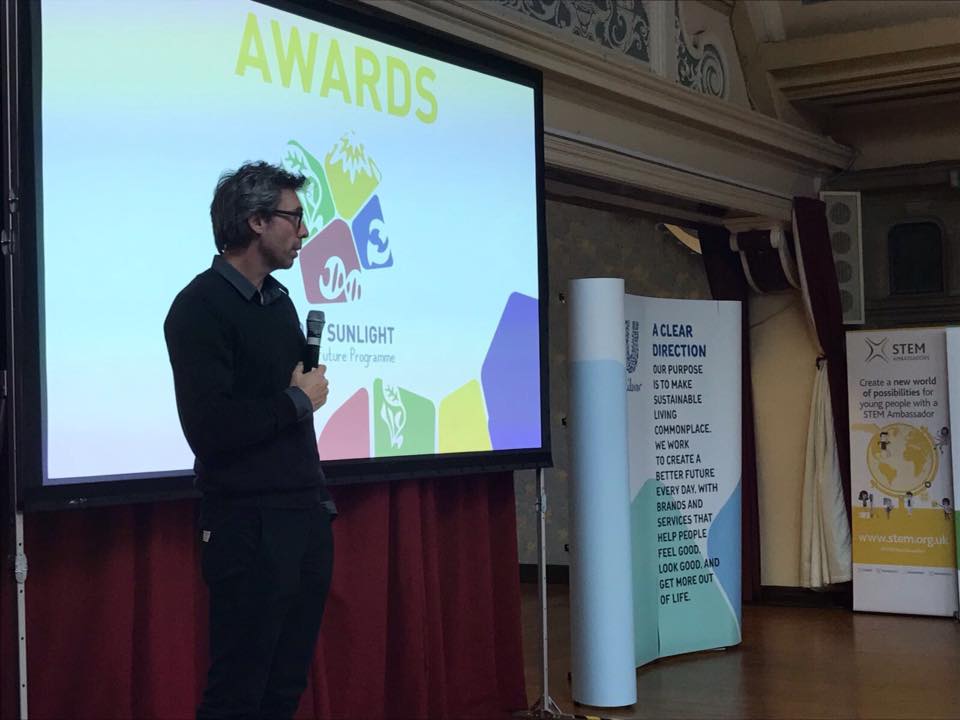 Following judging, Unilever took the floor to talk about their Bright Futures Programme and All About STEM discussed facilitating STEM in schools and The Big Bang North West.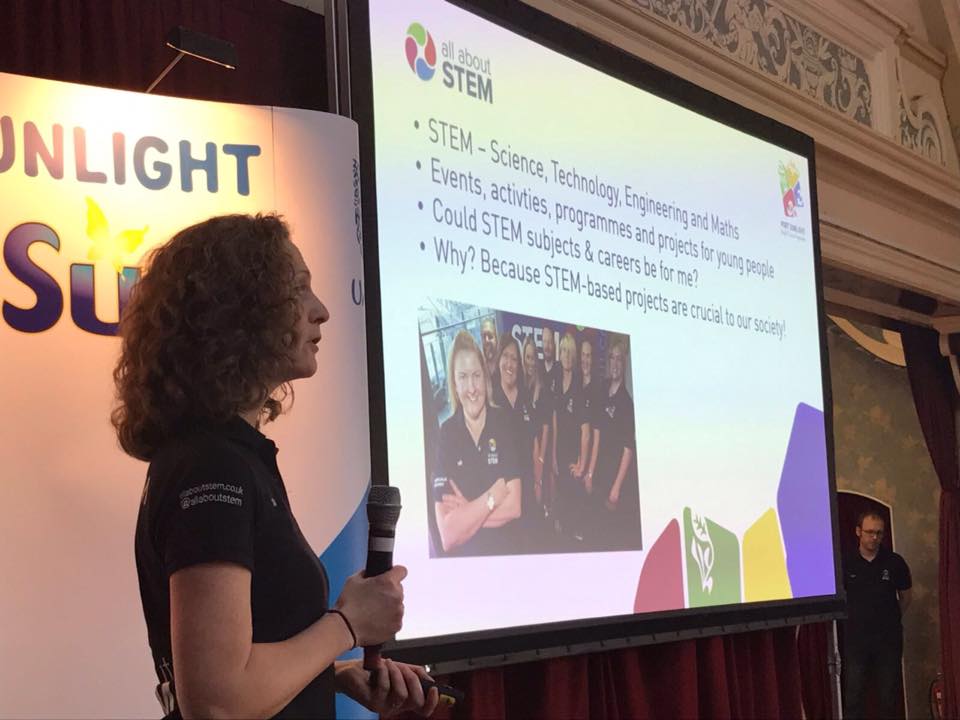 The school projects were beyond exceptional and every team strived to present their answers knowledgably.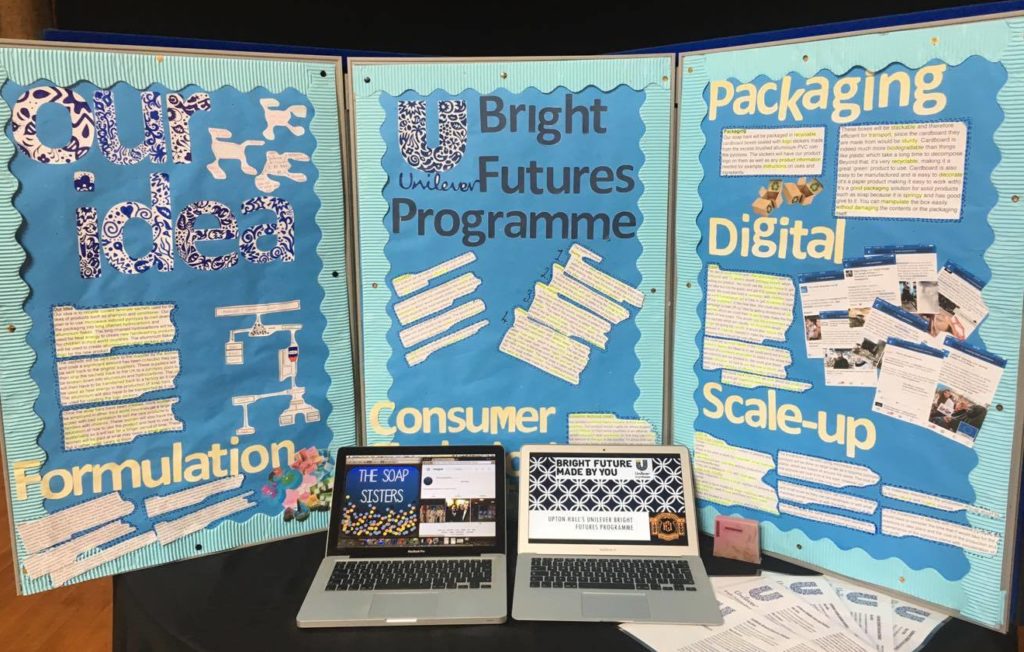 Schools displayed their work beautifully with amazing artwork, diagrams, formulations, props, concept models and more!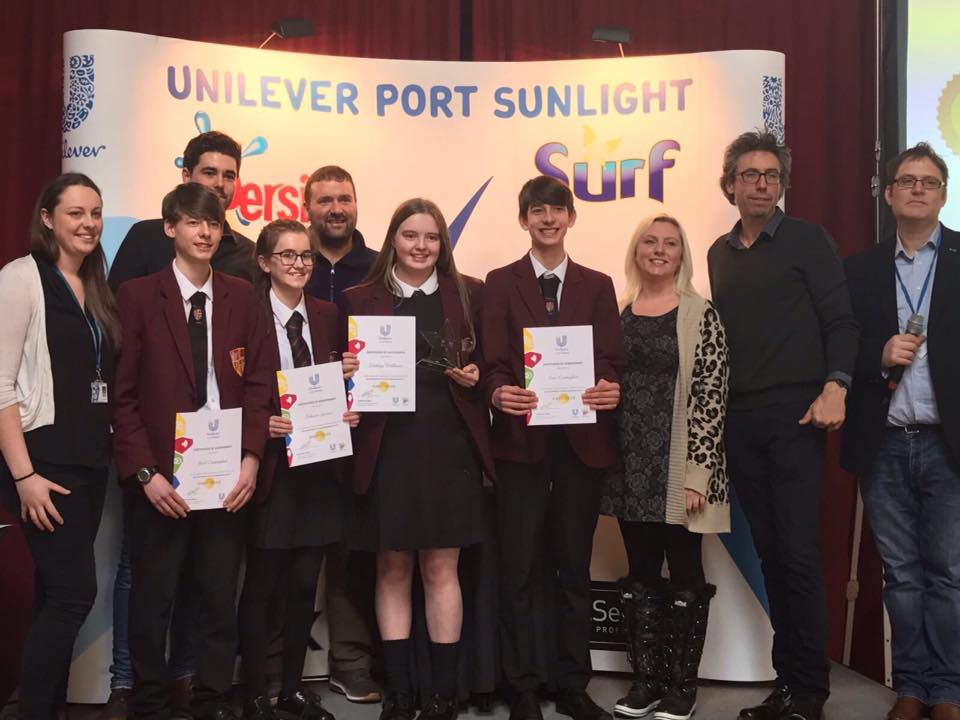 HUGE congratulations to Rainford High School who took first prize. They entered the Clean Hands For All Challenge and their idea to incorporate children's toys and games in soap was genius!
Ian Young, principal at Rainford High, said: "The Unilever Bright Futures programme with All About STEM has proven to be an incredibly engaging way for students to learn more about the possibilities of STEM learning. As a school we're always looking for ways to inspire our pupils and help them explore various areas of the curriculum outside of the classroom. I'm confident that this experience will have helped to inform our year 10 team and hopefully offered some insight into further study and career options.
"I'm incredibly proud of our winning team's innovation, hard work and determination. What's more, the challenges set throughout the day encouraged pupils to develop many skills, including teamwork, communication, leadership, creativity and presentation skills."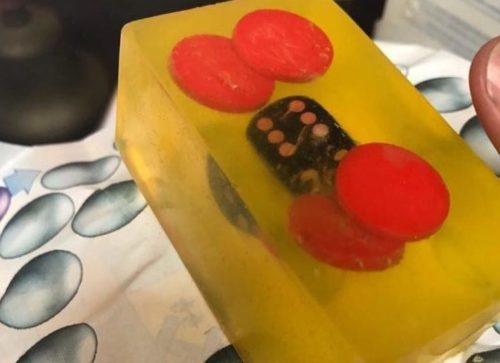 There were so many fantastic projects, first and second places were close to call and there was a joint winner in the Consumer category.
1st Prize – Rainford High School
2nd Prize – Wirral Grammar School
3rd Prize  – Upton by Chester School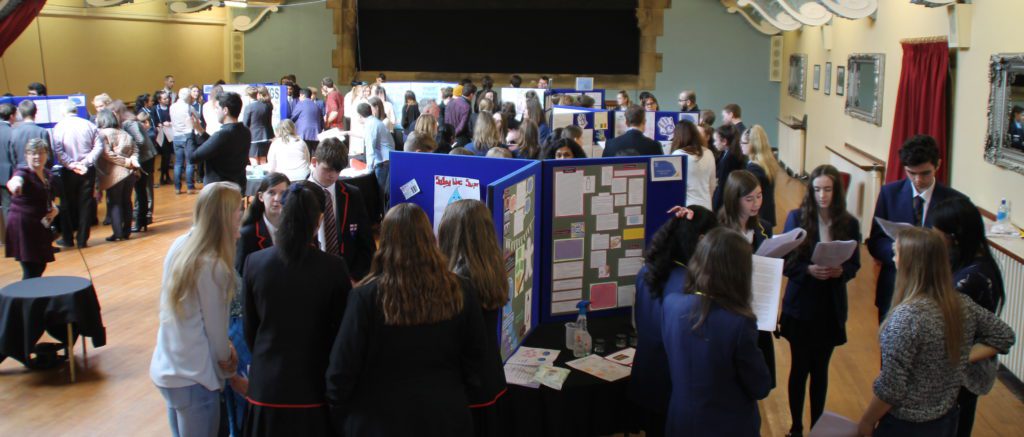 Technical Award  1st: Maghull High School  2nd: St. Anselms High School
Consumer Award  Culcheth High School & West Kirby High School (Joint winners)
Digital Award  1st: Archbishop Blanch School  2nd: The Catholic High School, Chester
Sustainability Award  1st: Range High School  2nd: Sutton Academy
Communication Award  1st: Upton Hall  2nd: Upton by Chester
Innovation Award  1st: Liverpool Life Sciences UTC  2nd: Rainford High School
All About STEM Managing Director Michelle Dow, said "The Bright Futures project has been huge success and we are honoured to be a part of it. The schools involved all did such a great job on their projects the judges had a really tough job. I'm not sure who enjoyed it the most! I would not be surprised to see the winning idea on supermarket shelves in the future, it was such an innovative design."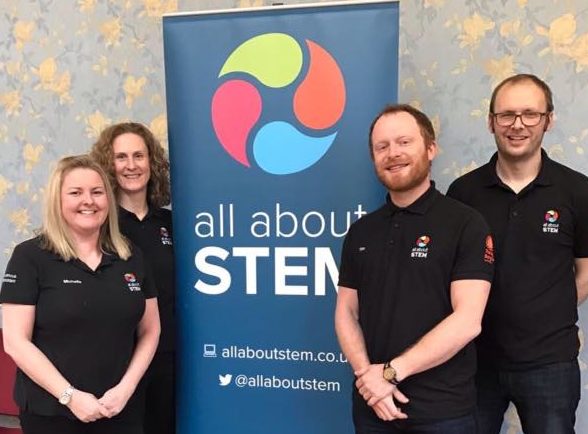 "Collaborations like this are so important as we get to show young people in our region the real life exciting STEM careers that are on their doorstep. The Unilever STEM Ambassadors have been a real credit to their company, we can't wait to do this again next year!"
Well done to all of our competitors, you are all winners!
Click here to relive the day in pictures and view the projects…
All About STEM: Unilever Bright Futures Celebration & Awards Videos

Liverpool Echo: Rainford High School win 1st prize at Unilever Bright Futures awards in conjunction with All About STEM!


All About STEM are proud to work in partnership with Unilever Bright Futures:
"We believe there has never been a better time to create a better future for our children; a world where everyone has enough food to eat and no child goes to bed hungry. Where every child lives to their fifth birthday and has the right to a happy childhood. Where every home has enough water to drink and to wash, cook and clean and where everybody can enjoy life today while protecting the planet for future generations.
Unilever BrightFuture is a platform that helps unite and amplify the efforts of a growing community of people who believe it is possible to build a world where everyone lives well and lives sustainably. Who recognise we can only achieve this if we all work together to do small actions every day that make a real difference and who inspire others to join us in making this the way everyone chooses to live." [Unilever]

The Big Bang North West: BOOK NOW for our 2017 event!
Big Bang North West 2017: Headline Sponsor AstraZeneca!
Official Gallery: Thousands of children inspired at The Big Bang North West 2016!
The Big Bang North West 2016 Gallery: BBNW LIVE TWITTER 'TRENDING' NATIONALLY!
The Big Bang North West 2016: Booming Online!
The Big Bang North West 2016: Your Amazing Feedback!
The Big Bang North West 2016: A Teacher's View
« Back To News