July 31st 2016
MerseySTEM Masterchef: Laura takes the Basecamp Bake-off title in aid of Food Poverty!
WINNER! Team MerseySTEM's cullenary aficionado Laura Pilgrim took first prize at the Basecamp Bake-off in aid of Food Poverty!
By expanding to our new STEM Studio in Liverpool's city centre, we are now proud to be a part of the Baltic Creative family based within the cutting-edge Baltic Triangle.
Basecamp Liverpool took part in the #ShareYourLunch campaign by hosting a bake-off in aid of Food Poverty and as MerseySTEM are renowned for our work with important causes along with 'always having cake', we just couldn't wait to get involved!
Our Laura whipped, baked, frosted & fruited her amazing Summer Pavlova in record time and before you could say "Mmmmm gooey, sweet meringue" she had only gone and won it!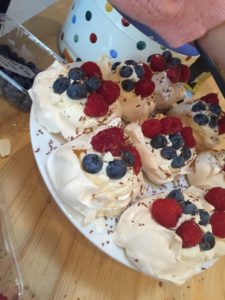 To celebrate, we've decided that Laura should make us all cakes every week. Well done to everyone who took part and congratulations to our MerseySTEM Masterchef!
Basecamp Liverpool offer a co working space in a unique shared office, providing an opportunity to base your business in an innovative and inspiring location. Food Poverty is leading an independent campaign to ensure food poverty is not institutionalised. They provide solutions, dignity, food quality & choice. Click their links to find out more about them and the #ShareYourLunch campaign.
Official Gallery: Thousands of children inspired at The Big Bang North West 2016!
Big Bang North West 2016: The Movie
The Big Bang North West 2016 Gallery: Behind the Scenes
The Big Bang North West 2016 Gallery: BBNW LIVE TWITTER 'TRENDING' NATIONALLY!
Headline Sponsors AstraZeneca 'Heat Up' The Big Bang North West
Big Bang UK Young Scientists & Engineers Competition: Winners & Awards
The Big Bang North West 2016: Booming Online!
The Big Bang North West 2016: Your Amazing Feedback!
The Big Bang North West 2016: A Teacher's View

« Back To News