June 28th 2017
Big Bang North West: Headline Sponsor Astrazeneca – ACTIVITIES REVEALED!
WOW! Our Headline Sponsor AstraZeneca has an amazing array of activities for the Big Bang North West 2017! Take a look…
AstraZeneca are proud of the amazing things that have been achieved at the Big Bang North West from 2014 to 2016 and are returning for a fourth year to sponsor our STEM-sational event! They want to make 2017's Big Bang North West even BIGGER AND BETTER – just like us.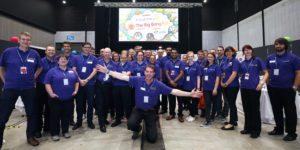 Activities with AstraZeneca
Beat the Raptor
Pipetting game, it's man V's machine – who is the fastest?!
Discover how the industry has moved from test tubes to miniaturised automated format to accelerate discovery. Typically, the equipment and process is defined as Early Discovery and is ~10 years from launch!
Good vibrations… hot or not?
Interactive use of Infrared cameras /Vibration analysis equipment
Practical understanding of thermography and Vibration Analysis and how it is used in the workplace.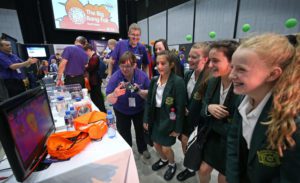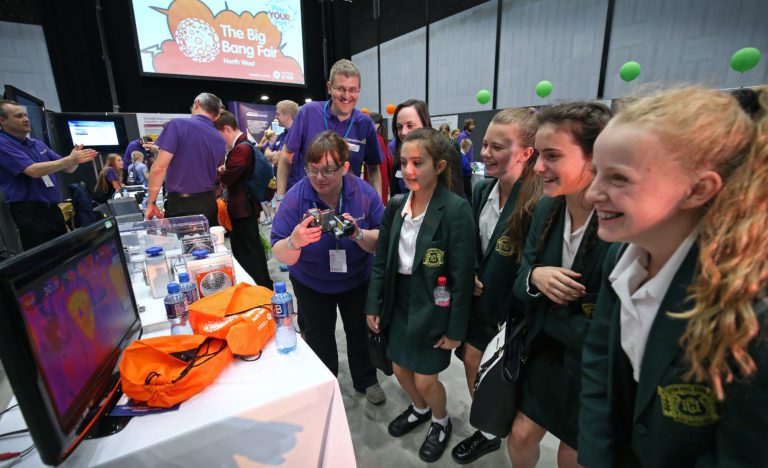 Is this real?
Experience Virtual Reality using an Oculus Rift headset!
How do you know it's me?
Voice technology is used in AstraZeneca to access training materials. Take part in a demonstration of Voice Technology using Alexa.
The Human Mass Spectrometer!
Discover how a mass spectrometer works, from ionisation, separation of the ions and detection.
Use a Nerf gun to ionise then drop balls into a bag to separate & detect!
Pipette-ual motion!
Hands on use of pipettes – Multi and single channel, pipetting of coloured water from flask to sample trays.
Understand how pipetting works and when it is used an a laboratory environment.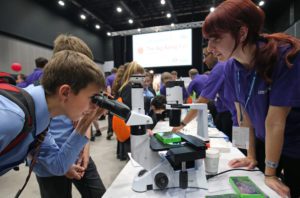 But that's tiny!
Understand how microscopes are used in the laboratory environment. Get hands on with microscopes and cell samples!
Up, up, up!
Tower building challenge  – See how high a tower can be built with limited materials.
Discover how Engineers overcome spanning great distances and heights when building structures by careful selection of materials and use of shapes in the design.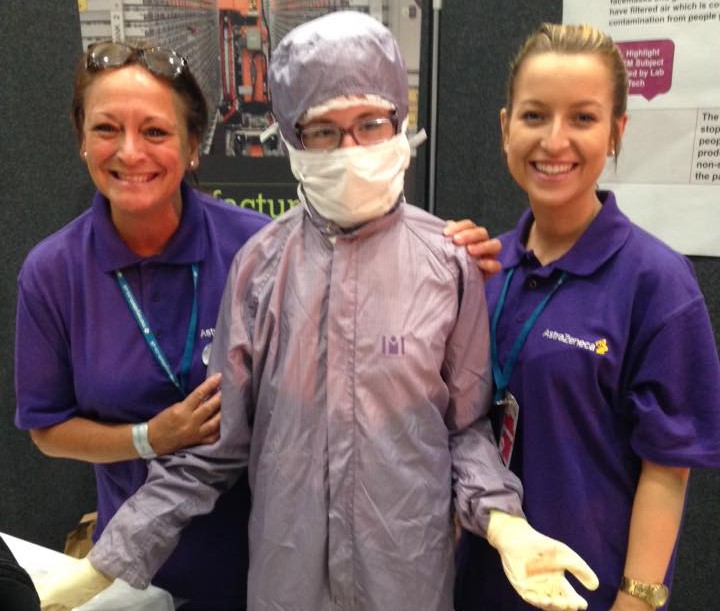 You wear it well…
'Have a Go' at gowning and glove techniques!
Understand what operators wear and why they wear gowning & gloves in a manufacturing suite of a Biotech facility.
There will also be the opportunity to talk about career opportunities including Work Experience, Apprenticeships & Graduate Training Schemes at AstraZeneca in the Northwest.
Simon Willocks of AstraZeneca in Liverpool said: "We want the Big Bang North West to be a big success and to spread the word about the exciting career opportunities that exist for those who study science, technology, engineering and mathematics."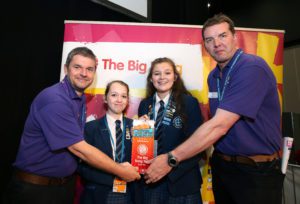 Along with The Big Bang North West, AstraZeneca also sponsored The Big Bang UK Young Scientists & Engineers Competition and the North West Young Scientist of the Year Award.
AstraZeneca is a global pharmaceutical company with a major UK presence. Their goal is to push the boundaries of science to deliver life-changing medicines. In addition to supporting the science and innovation base of the UK, they also make a significant economic contribution in this country.
Headline Sponsors AstraZeneca 'Heat Up' The Big Bang North West 2016!
AstraZeneca: The Big Bang Competition – Finalists & Award Winners
OFFICIAL GALLERY: Thousands of children inspired at The Big Bang North West 2016!
Visit AstraZeneca UK
Find out more about The Big Bang UK Young Scientists & Engineers Competition…

The Big Bang North West 2017
Big Bang North West 2017: Headline Sponsor AstraZeneca!
Official Gallery: Thousands of children inspired at The Big Bang North West 2016!
The Big Bang North West 2016 Gallery: BBNW LIVE TWITTER 'TRENDING' NATIONALLY!
The Big Bang North West 2016: Booming Online!
The Big Bang North West 2016: Your Amazing Feedback!
The Big Bang North West 2016: A Teacher's View
Follow All About STEM on Twitter here
Like All About STEM on Facebook
Follow The Big Bang North West on Twitter here
Like The Big Bang North West on Facebook
« Back To News